Online Gambling with PayPal
---
Key Points
As of 2023, PayPal permits authorized gambling merchants in jurisdictions where gambling is allowed
Only personal accounts can be used to gamble. Business accounts are prohibited.
Some alternatives to PayPal include instant eCheck (ACH), credit and debit cards, online banking transfer and Play+ Prepaid Cards
The process of opening a new PayPal account is free
---
Disclaimer
This resource guide is intended for informational purposes only and is not a comprehensive review of PayPal. The views and opinions expressed in this article do not necessarily reflect the official policy or position of PayPal or any other organization.
The information contained in this article should not be taken as legal, financial, or professional advice. Readers are encouraged to seek out qualified professionals for advice on their specific situations.
PayPal is a registered trademark and the use of this term in this article is for informational purposes only. The writer and publisher of this guide are not affiliated with PayPal in any way.
---
Paypal Games that Pay Real Money
Paypal offers a quick, secure, and convenient experience for online gamblers. The platform is incredibly speedy with payments processed almost instantaneously.
Encrypted technology helps ensure the safety of transaction, so money and personal information remains protected at all times. Additionally, Paypal allows users to keep track of all their online activities in one place, providing them with an extra layer security.
Can I Use PayPal for Gambling?
First, it depends on whether online gambling is legal in your state. As of December 2022, online gambling is legal in Connecticut, Delaware, Michigan, New Jersey, Pennsylvania, and West Virginia.
Next, you need to confirm if the casino accepts PayPal as a payment option. PayPal is a popular payment option across most online gambling platforms; however, not every iGaming website uses PayPal as a payment option.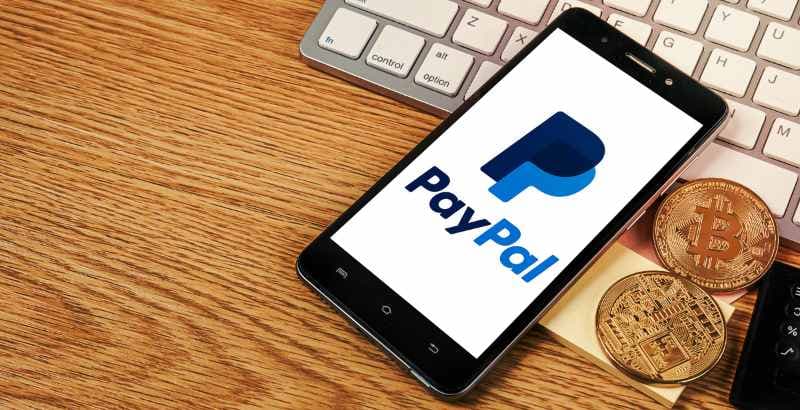 PayPal has rules regarding using its services for gambling and related activities. PayPal prohibits transactions for gambling activities by merchants and account holders in the U.S. and any other jurisdiction where gambling is prohibited, as well as by merchants whose services are available to account holders in the United States.
In jurisdictions where gambling is allowed, PayPal permits authorized gambling merchants to utilize its service. To be allowed by PayPal, merchants must convince PayPal that they can prevent account holders from gambling in the U.S. and in any other country where gambling is prohibited.
Unless the merchant has received PayPal's approval, account holders may not use PayPal to send or receive payments for any type of gambling activity, including but not restricted to payments for bets, gambling debts, and gambling winnings, whether carried out online, in person, or through any other means of communication.
PayPal defines gambling as placing, accepting, recording, or registering bets; taking part in lotteries; or engaging in any activity that involves playing a game of chance for cash, property, or other valuable items.
Which Forms of Gambling Are Not Compatible With PayPal?
Generally, PayPal prohibits its services from being used for gambling activities in states or jurisdictions where gambling is illegal. Hence, it would be best to verify the legal status of gambling before using PayPal as a payment option.
Also, only personal accounts can be used to gamble. PayPal prohibits using business accounts to fund gambling activities or withdraw gambling winnings.
Why Choose PayPal for Gambling?
If you are considering choosing PayPal for gambling, here are some of the advantages of using PayPal:
Reputation and Reliability
PayPal provides** secure and reliable payment services** to millions of users worldwide. It is one of the most popular online payment solutions. You'll be engaging the services of an industry leader with experience and a reputation that you can trust.
Fast Deposit and Withdrawal Methods
One of the biggest advantages of using PayPal for online transactions is instant payments. You only need to connect your bank account to your PayPal account, and you can make instant payments.
Many online gamblers complain that the process for withdrawal using some payment options takes time. However, the withdrawal process with PayPal is faster than most other payment options. Although withdrawal processing usually depends on your casino, using PayPal can help you reduce withdrawal time. It can be a matter of minutes or hours instead of days.
Safety and Security
PayPal is one of the safest and most secure payment options. PayPal uses state-of-the-art encryption technologies and security mechanisms comparable to those used by major online banking institutions. You can rest assured that when you register with a licensed casino or sportsbook and use PayPal as your payment service provider, your money will be handled in a safe and secure environment.
PayPal's specialized teams are constantly watching for hacking and fraud. Additionally, a dispute team is on hand to assist you in resolving any problems that may develop between buyers and sellers. Along with its services, PayPal provides a helpful customer support team that is on hand to help you with any issues you might have.
Privacy
PayPal safeguards the privacy of its users. Every time you make a payment, you will not need to give a website your personal data. You may make deposits and withdrawals worry-free because your personal information is secure.
No Gambling Records
Another benefit of using PayPal is that there will not be any gambling records appearing on your bank statements because you will not give the online casino your bank or card information. Online casinos are never given access to sensitive information when processing your payments. Only your email address is visible to the casinos.
There are hardly any disadvantages to using PayPal. The only thing, which is not a disadvantage, is that not every online casino provides PayPal as a payment option. Also, some casino bonuses are not available to PayPal users.
In conclusion, PayPal is unmatched in terms of flexibility and ease of use. It will take little time for transactions to appear in your account, and withdrawing money from a PayPal casino account is incredibly quick and safe.
Which U.S. Online Gambling Sites Take PayPal?
Not all online gambling sites in the United States accept PayPal as a payment method. However, there are a few that do accept it.
It is always a good idea to check the terms and conditions of an online gambling site before making a deposit or placing a bet. The availability of these online gambling sites may vary by state.
Additionally, it is important to remember that online gambling is not legal in all states.
It is the responsibility of every player to determine whether their preferred game is legal in their specific location.
Some of the states where PayPal is available for gambling include:
Which U.S. Sportsbook Takes PayPal?
Here is a list of some sportsbooks that accept PayPal in the United States:
How to Make PayPal Online Gambling Deposits?
Follow the following steps if you want to make PayPal online gambling deposits:
Step 1. Register for a PayPal account
The process of opening a new PayPal account is free. Visit the PayPal website or download the PayPal app to your smartphone. Select a personal account by clicking the "Sign Up" button at the top right of the screen, then input your phone number.
Step 2. Provide your email address and create a password
After that, you must choose a password and provide your name and email address. You will need to confirm your email address by clicking on a link provided to you to ensure it is active. It would be best if you also chose a strong password that is difficult to guess.
Step 3. Enter your personal information
Your home address and other private information will be requested. Ensure that the information you give is accurate.
Step 4. Add card profiles to your account
You must link PayPal to your bank account to use PayPal to make deposits and withdrawals. There is a time-consuming verification step, but it only needs to be done once. PayPal puts between $0.01 and $0.99 into your bank account, and you must enter the amounts as a code. After that, you can start making deposits with PayPal.
Step 5. Verify your account
To receive money in your PayPal account, you must verify your email address. Locate the PayPal verification email and click the unique link. You must be at least 18 years old to create a PayPal account.
Step 6. Send funds to PayPal betting sites
You can send funds to a casino or sports betting account after you have funded your e-wallet. Pick PayPal from the list of deposit options in the cashier. You will be taken to the PayPal website after entering the amount you wish to deposit and clicking the confirm button. You may check the sum and the payee details on the PayPal account page. The instant you click "Send Money Now," your money will be sent. Because you never have to fill in your card information, this process is quick and convenient.
Does Bet365 Accept PayPal?
Yes. Bet365 accepts PayPal. You may use PayPal as a payment method at Bet365 to make deposits and withdrawals to and from your betting account. PayPal is one of the few payment options supported by Bet365 that accepts both deposits and withdrawals, ensuring gamblers a simple and hassle-free payment experience.
Note: You can only use personal PayPal accounts to make and receive gambling payments. You cannot use a PayPal business account.
Does DraftKings Casino Accept PayPal?
Yes. DraftKings Casino accepts PayPal as a form of payment. PayPal is one of the best payment options for DraftKings users.
This is because PayPal speeds up withdrawals from and deposits into DraftKings. Also, if you live in a state where DraftKings does not take credit or debit cards, you can get around this by using your credit card to finance your PayPal account. On the other hand, you can withdraw money from your DraftKings account via PayPal and get fast access to it using a credit or debit card. DraftKings typically completes PayPal withdrawals in less than 24 hours, though it usually takes less time.
Note: You can only use your personal PayPal account to make and receive gambling payments. PayPal Business accounts cannot be used for deposits or withdrawals on DraftKings.
What Are Some Alternatives to Using PayPal for Gambling in the U.S.?
Here are some other payment alternatives for gambling and sports betting in the U.S:
Instant eCheck (ACH)
Credit and debit cards
Online banking transfer
Play+ Prepaid Cards
PayNearMe
Bank wire transfer
Paper checks
Skrill
Neteller
Venmo
Cryptocurrency
Bank wire transfer
Cash at the casino cage
Stripe